HOUSTON OCD COUNSELING OFFERS EFFECTIVE TREATMENT FOR OCD THAT REALLY WORKS WHILE PROVIDING PROFESSIONAL AND COMPASSIONATE CARE FOR OUR CLIENTS!
Houston OCD Counseling is a mental health practice that brings together a passion for excellence and getting positive results for our clients. Our goal is to personally guide you from a place of confusion and hopelessness to a relaxed, happy, and confident place in your life where you will experience the peace of mind that you have always hoped for.
OUR VISION AT HOUSTON OCD COUNSELING
Houston OCD Counseling hopes to continue to be one of the premier behavioral treatment providers in the greater Houston area for many years to come. We will continue to educate, inspire, and serve every single one of our clients. At Houston OCD Counseling, we are always inspired to move forward into the future, learning new innovations and modern techniques so that we can be more effective in treating our clients. We are always striving to get better at what we do for our clients so that your fight with OCD, anxiety, and depression will not only be successful for a short period of time but will give you relief for the rest of your life.
---
MICHAEL SODERSTROM, MA, LPC-S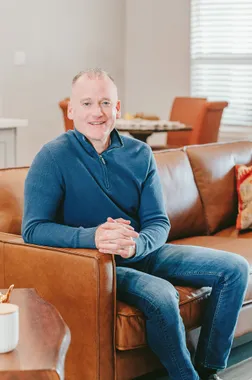 Michael has published two research articles addressing the treatment of anxiety in the Journal of Behavioral Medicine and The Journal of Psychology. He treats all types of Obsessive-Compulsive Disorder (OCD) such as Contamination OCD, Relationship OCD, Harm OCD, Perfectionism, Sexual Orientation OCD, Religious OCD, Driving OCD, Pedophile OCD, Checking OCD, and many other unique forms of OCD. Michael treats anxiety disorders and OCD Spectrum Disorders such as Panic Disorder, Social Phobia, Hypochondriasis (Health Anxiety), Skin-Picking, Hair-Pulling, Generalized Anxiety Disorder, and other common phobias.
Michael uses the most up to date methods of treatment implementing Cognitive-Behavioral Therapy (CBT) and Exposure/Response Prevention (ERP) and other evidence-based protocols. Michael has a seminar (Surviving Your Child's OCD) that he presents several times a year to help parents and loved ones develop the tools to enable their children and family members to beat OCD. Given Michael's training and over 23 years of experience treating clients with anxiety disorders you can be assured that he will have a treatment plan that is tailored for the needs of each patient. He is excited about showing his patients the secrets of overcoming OCD and living happy, peaceful lives. As someone who struggled with OCD for many years, I understand the importance of providing all of my clients with constant validation and a safe space to disclose such difficult emotions. I take pride in helping my clients get rid of OCD completely and allowing them to live a much more fulfilling life. Having overcome OCD in my personal life, I have an inside view on the treatment of OCD coupled with my specialized OCD training. I look forward to sharing my personal stories and victories in my journey to helping you beat OCD and living a happier life.
Michael works with all ages of clients including children, adolescents, and adults. For more information, please call 281-219-8263 or email us at [email protected].